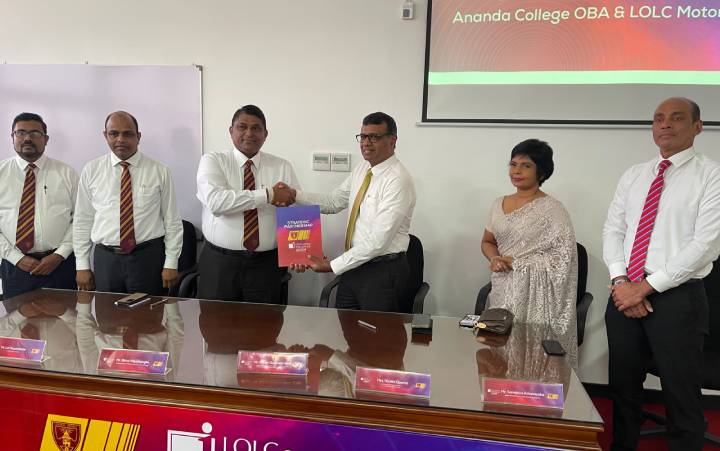 LOLC General Insurance PLC (LOLC GI), recognised as the fastest-growing General Insurance company within the large and medium companies, has entered into a Memorandum of Understanding (MoU) with the Ananda College Old Boys' Association (ACOBA) to enable members to promote the unique, first-ever lifestyle motor insurance product, the 'Honours' loyalty programme.
The signing of the MoU took place recently during a press conference at the Ananda College Sath Mahala premises. Gracing the occasion were Mr. Kithsiri Gunawardena, Group Chief Operating Officer of LOLC Group and Director/Chief Executive Officer of LOLC General Insurance PLC and Mr. Bimal Wijayasinghe, Executive President of ACOBA.
The 'Honours' loyalty programme with rich rewards is applicable for all LOLC GI Motor Policy holders.
Ananda College Old Boys' Association was established in 1908 and includes over 10,000 members. Based on the agreement, ACOBA members will be offered LOLC GI's new motor lifestyle loyalty program 'Honours' showcasing its seamless and delightful experiences which offer real value.
The Loyalty programme is structured across four (04) tiers with membership levels of Classic, Silver, Bronze and Platinum offering holders continuous rewards and benefits every day. All LOLC GI Motor Policyholders will receive valuable discounts and benefits through the loyalty partner network – Channel 17 (CH17).
Members can accumulate 'Honours' loyalty points while transacting with any of the merchants within the network and are free to redeem points through selective partners or during their policy renewal. Additionally, 'Honours' enables its policyholders to donate the accumulated points to LOLC's humanitarian programmes.
LOLC General Insurance PLC is a fully owned subsidiary of the LOLC Group, among Sri Lanka's largest and most diversified conglomerates, with operations in 22 countries in Asia, Africa and the Middle East. At present, LOLC General Insurance is classified as a large-sized company and the 5th largest General Insurer and 4th largest Motor Insurer in Sri Lanka.
The company was recognized as the fastest to achieve a Rs. 7 Billion milestone within the General Insurance industry. During 2022, LOLC General Insurance recorded a premium income growth of 18% which was the highest growth recorded by a mid/large sized company in the General Insurance industry and reported paid claims of Rs. 3.6 Billion.
Reaffirming its people-centric approaches demonstrated during the past few years, LOLC General has received multiple awards including for 'Best General Insurance Company of the Year' at the 3rd Emerging Asia Insurance Awards 2021, Asia's Best Employer Brand Awards 2021, and was also ranked amongst the Top Nation's Most Popular Service Providers by LMD in 2021 and 2022.