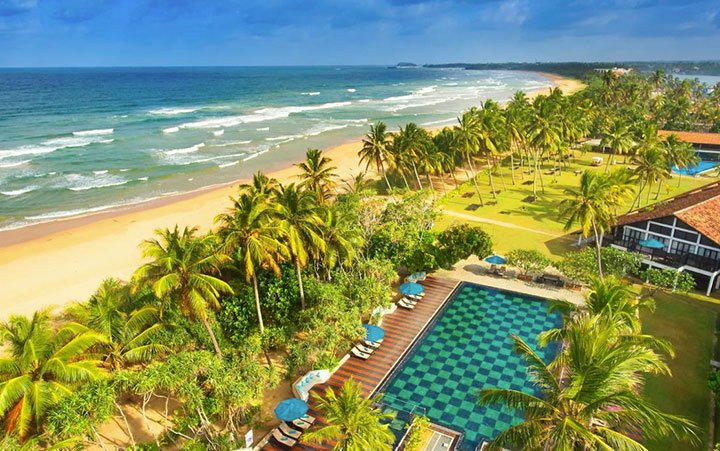 Thaala Bentota, formerly known as Avani Bentota, proudly unveils its rebranding, marking a new era of excellence in Sri Lankan hospitality. This momentous occasion celebrates the transformation of a cherished destination into a haven where rhythm, nature, and luxury intertwine to create an unforgettable experience. This exciting transformation brings forth a fresh creative philosophy while preserving the world-class service and warm hospitality. As a proud member of Browns Hotels and Resorts, Thaala Bentota epitomizes the
commitment to excellence that defines the renowned hospitality brand. The rebranding represents an exciting new chapter for the property, one that promises to deliver unforgettable memories and create a harmonious blend of rhythm and luxury. Browns Hotels & Resorts, renowned for its exceptional properties, will provide the same unparalleled sense
of comfort and convenience now at Thaala. Thaala Bentota embodies the universal concept of rhythm, brought to life through the timeless architectural design inspired by Geoffrey Bawa. The resort's new name, Thaala,
meaning "rhythm" in the local language, reflects its unique vision of harmonizing nature and humanity. The interplay between nature and man is intricately woven throughout the property, creating a sanctuary for weary travellers. Situated along the picturesque Hotel Road of Bentota, Thaala Bentota retains all the cherished aspects that have made it a favourite among travellers. The familiar sands, welcoming smiles, and exceptional service remain unchanged, ensuring that guests feel right at home. Speaking at the event, the Group Managing Director/ CEO of LOLC Holdings PLC, Mr. Kapila Jayawardena, expressed his thoughts "This transformation signifies our commitment to
continuously elevate the guest experience and redefine luxury hospitality in Sri Lanka. Thaala Bentota encapsulates our vision of harmonizing rhythm and nature. This is not just a name change; it represents a new chapter in our journey to offer unique and immersive experiences that resonate with our guests. Under the umbrella of Browns Hotels and Resorts, a trusted name in the leisure industry, our aim is to position Thaala Bentota as a premier destination, in the wider global hospitality landscape." Building upon that Mr. Eksath Wijerathna, Group General Manager, Browns Hotels & Resorts
remarked, "Thaala Bentota stands proudly on the edge of Sri Lanka's natural beauty, offering guests a quintessential experience on this paradise island. At Thaala Bentota, our dedicated staff stands ready to create an excellent service, ensuring that every guest departs with cherished memories that will last a lifetime. We offer more than just a place to stay. We have created an environment that resonates with our vibrant culture and showcases the essence of our country. With an upgraded rhythmic vibe, we welcome our guests to join us in
celebrating the rebirth of this beloved resort, to experience a sense of familiarity while enjoying the best that our property has to offer. We look forward to welcoming the world, to
Thaala Bentota". Browns Hotels and Resorts, operating as the leisure arm of LOLC Group, the most profitably diversified multinational conglomerate in the country, has been investing in the Sri Lankan leisure industry since 2009. With its expansion to the Maldives and Mauritius, the LOLC Group is set to become one of the largest leisure property owners in each of these markets. With a portfolio of exceptional hotels across Sri Lanka, the resort establishments under Browns Hotels and Resorts are dedicated to ensuring guests' comfort and convenience.